The pilates Studio
Our beautiful private boutique Pilates studio is nestled at the foot of the south downs in rural Washington and is fully equipped with the latest Pilates equipment such as the Reformer, Pilates chair, tower bench and ladder barrel and is designed for both rehabilitation and fitness.
The large Pilates equipment (often referred to as 'machines' or apparatus) are extremely effective in directly targeting particular muscles in a way that traditional techniques are unable to do, making it possible to get effective results in a relatively short amount of time.
In the studio you will receive 1:1 tuition and programmes individually designed to meet your individual needs and goals whether you are looking to enhance your fitness or recovering from injury.
The private studio is also perfect for those wanting to first gain strength, technique and confidence before joining group mat classes.
This is your personal fitness journey and Rock Pilates fitness and rehabilitation studio has everything you need to get you there faster and effectively.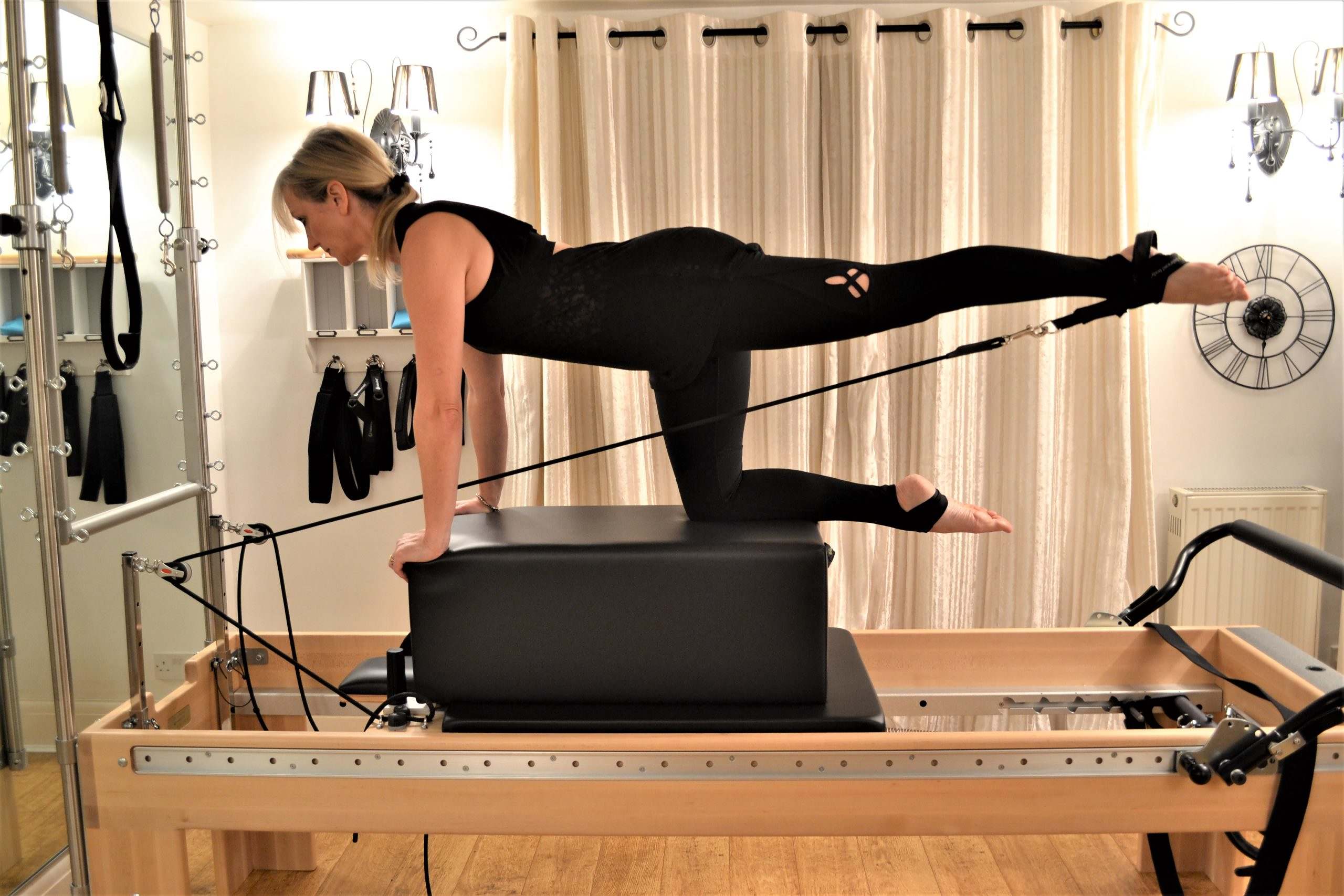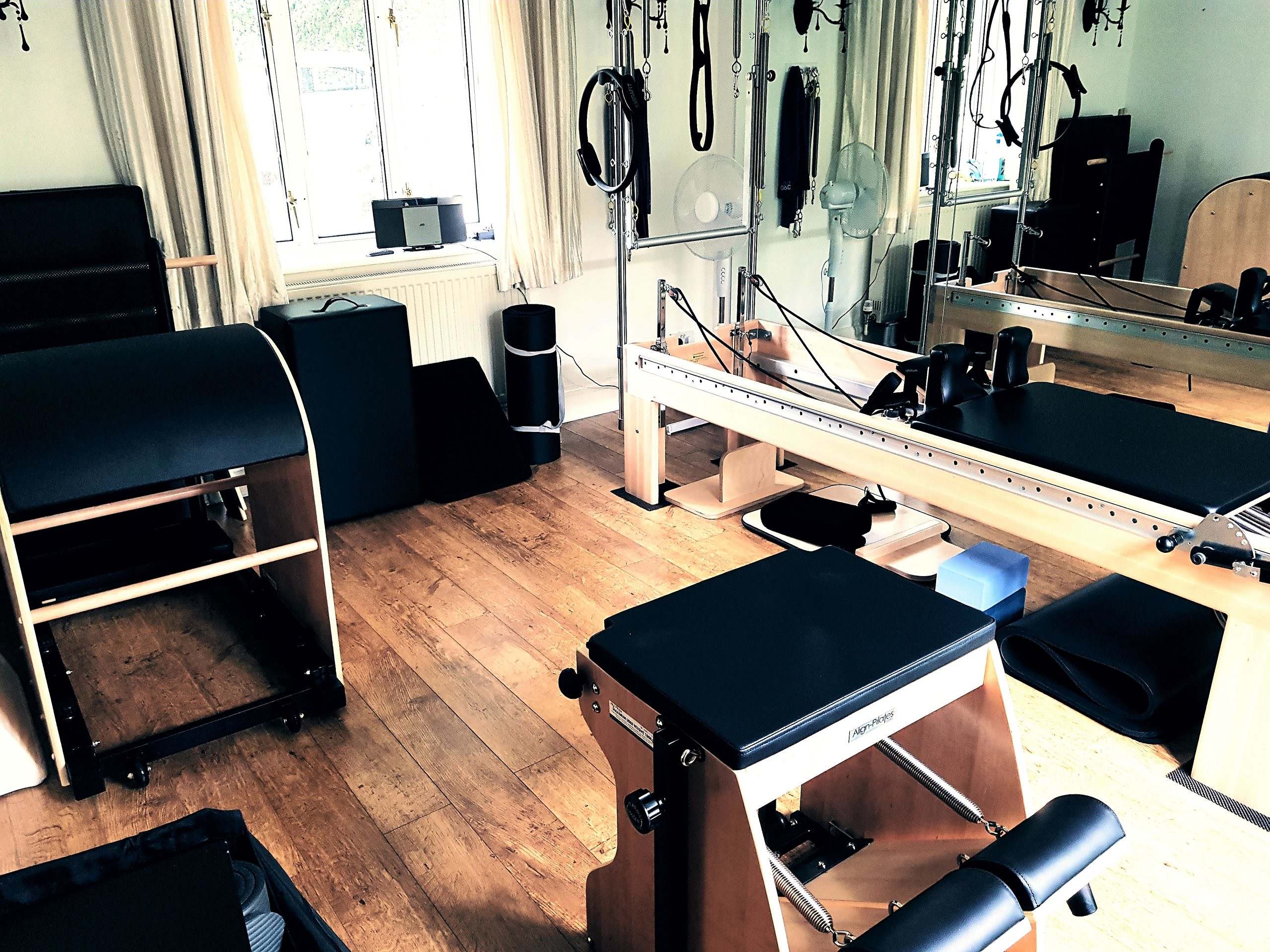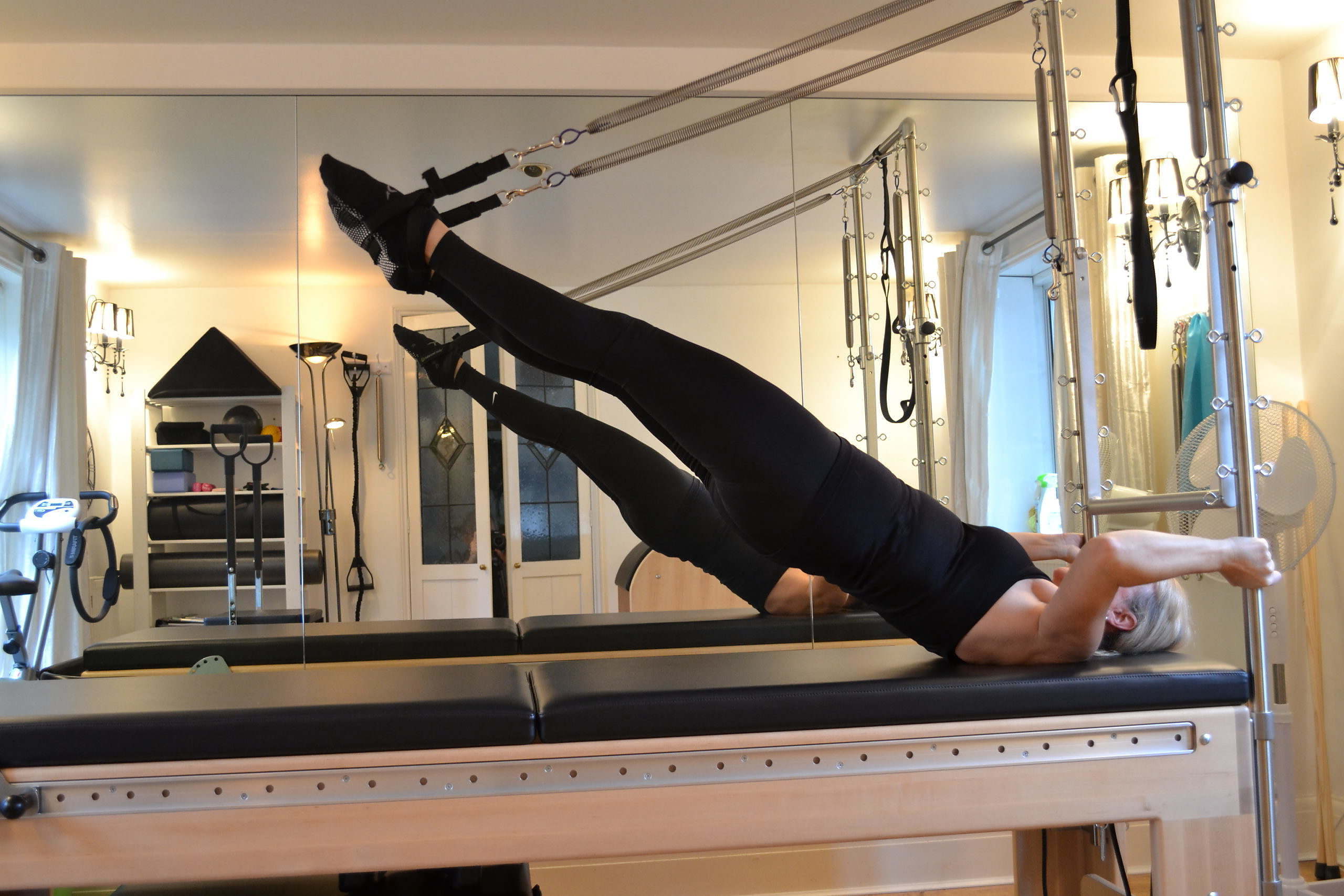 pilates equipment at the studio
Ladder Barrel
Pilates chair
Reformer
what are pilates machines?
Pilates studio 'machines' were originally designed by Joseph Pilates to facilitate recovery among war veterans in hospital but later were used primarily by dancers and athletes for performance enhancement. Nowadays, they are widely used in Pilates studios for both rehabilitation and fitness.

Rock Pilates studio has the reformer, Pilates chair, tower bench and ladder barrel as well as all of the smaller equipment often found in a mat class to support the larger apparatus. For most of the equipment clients are able to sit, stand or lie-down whilst using the equipment which makes it perfect for clients who need that extra support.

The majority of machines use a system of adjustable spring resistances to challenge muscles and strengthen joints depending on the client's purpose and individual needs using foot straps, handles, jump board, bars and boxes. As the body can be supported throughout without load bearing, the machines are highly adaptable and versatile and perfect for any level of fitness from rehabilitation through to sports performance enhancement.

Who Is It For?

Clients recovering from injury or living with conditions such as arthritis.
Fitness – studio Pilates circuits are a great way to rapidly increase fitness and even includes a cardio element.
Sports conditioning including dance, martial arts, gymnastics.
Explore more
Get Moving. Keep Moving.
The fitness and rehab studio is ideal for rehabilitation from injury, surgery or anybody living with physical limitations or conditions. Clients may be recovering from hip or knee replacements recovering from a slip, trip or fall, whilst other clients may be living with painful conditions such as arthritis. However, they all have one thing in common – they all want to get moving and get back to normal life again, as soon as possible.
During the first consultation clients are observed and assessed to understand pre-existing movement patterns, physical impairments or restrictions and imbalances and programme is then designed to meet that client's individual needs.
The Pilates 'machines' are not only ideal for restoring function following injury or surgery but in helping to maintain mobility and build strength for those living with conditions such as arthritis, back pain or postural imbalances. The machines can support a client's weight thereby reducing stress on joints whilst increasing flexibility, developing core strength to better support joints and reduce pain.
Over time the client becomes the expert in their own recovery, developing a better understanding of their own body and helping to prevent further injury down the line as their knowledge grows.
The large Pilates machines are often used to complement, support and enhance a client's existing physiotherapy programmes, often after having been referred in by their GP, physiotherapist, osteopath or other health professional, Rock Pilates will then work collaboratively wherever possible to ensure the best outcome for the client.
Rehab sessions are normally on a 1:1 basis but wherever possible we can accommodate up to 2 rehab clients at a time, although it is worth bearing in mind that as sessions are individually tailored to meet different needs and abilities, if a client has a specific condition that requires focused attention it may not always be advisable.
What will it do?
The Pilates machines will:
Increase your flexibility by lengthening tight muscles and mobilising stiff joints
Improve overall muscle tone, strengthen muscles and stabilise weak joints to support you in day to day activities
Improve balance and restore confidence
Help to reduce pain from arthritis and other similar conditions
Build core strength for a faster and more effective return to fitness
Give you a leaner and more toned appearance
Strengthen the mind as well as the body because as we become physically stronger, so we feel mentally stronger
Rehabilitation & Beyond
Our ethos is for rehabilitation and beyond therefore once a client has recovered, we don't stop there, as then the challenge is to become fitter, leaner and stronger than before, in both body and mind.
When clients get to a certain stage of recovery or have regained strength and mobility, many carry on purely for fitness in order not to lose it again and switch to fitness maintenance sessions as they quickly notice their balance, strength, mobility and overall fitness improve, not just in the studio but in their day to day lives. Plenty of clients are now on this next part of their journey and are back enjoying life but now that they have their fitness back, they understand they need to keep it up.
If you love Pilates and enjoy gym circuits then Rock Pilates fitness circuits have the perfect blend for you as whatever your existing fitness, Pilates fitness circuits will help you become fitter, leaner and stronger.
Take That First Step to Getting Fit
Fitness circuits use all the equipment in the studio to provide an all body workout slowly increasing in challenge over the weeks and even includes cardio elements! Whilst sessions tend to be on a 1:1 basis, they can also be booked as a 2:1 – perfect for those wanting to get fit alongside friends!
Try Adding Pilates Fitness Circuits To Your Fitness Routine
Rock Pilates' circuit workouts have a bootcamp feel and will support and enhance your existing work out perfectly, whether that's in the gym, with a personal trainer, or for activity-specific performance training and conditioning. Whatever your preference, adding Pilates fitness circuits into your routine will take your fitness to the next level as they target specific muscles to switch on or off whilst supporting the body using a system of different spring resistances or the body's own weight leverage.
Ideal for clients who are looking to either return to fitness, get fit or get significantly fitter, Rock Pilates fitness circuits will:
Build core strength, strengthen and stabilise muscles around joints
Increase flexibility, lengthen and mobilise muscles
Improve muscle definition and tone, giving a leaner appearance
Improve coordination and posture
Improve balance
Enhances sports performance by addressing muscles imbalances to improve technique for specific sports, dance or martial arts
The reformer even has a jump board to provide you with a little cardio element to your fitness workout.
pilates studio prices
1 session
£45
2 people / each
£30
10 sessions
£399
2 people / each
£270
5 sessions
£210
2 people / each
£143
pilates studio opening times
Wednesday
9.00am – 5.30pm
Contact us to book a session
Rose Cottage
1 Rock Lane
Washington
RH20 3BL
Sports & Dance Conditioning
Pilates machines have been used for many years for training athletes and dancers to improve performance to aid injury recovery. By observing individual movement patterns, we can also help to identify potential weaknesses and help prevent injury going forward.

As an argentine tango dancer, I understand the demands being placed on a dancer's body, both in performance and in class. I work with dancers recovering from injury before working to increase flexibility, strength and stability to prevent further injury. Together with each client I develop and continuously adjust their programme as their strength improved until the desired results are achieved.

I apply the same principles when working with clients in other sporting arenas and work with them to develop a programme of exercises specific to their field. By observing individual movement patterns, we can also help to identify potential weaknesses and help prevent injuries going forward.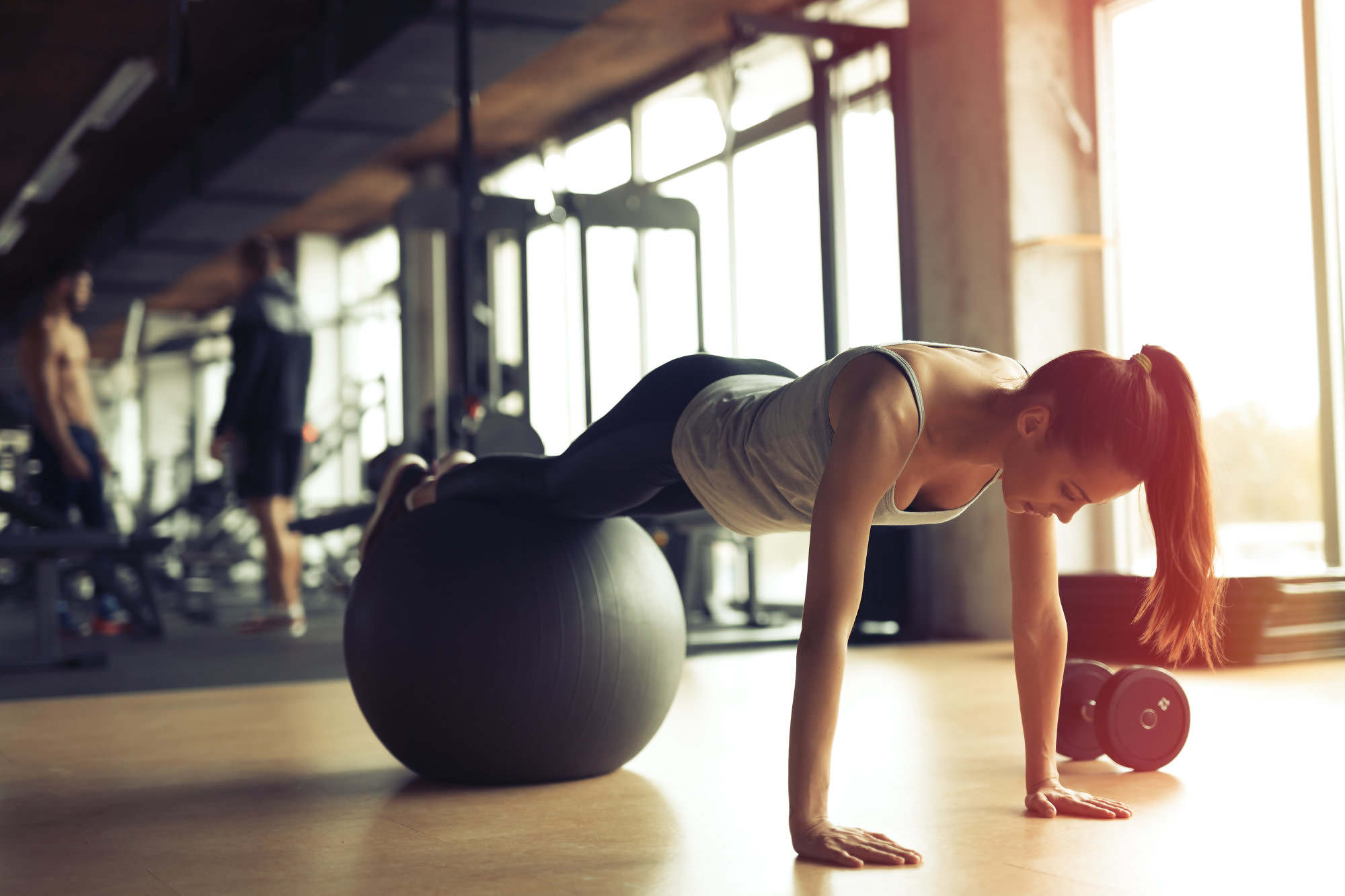 WHAT MY CLIENTS SAY
Alex Perkins

Arlette's classes are methodical, rigorous but at the same time light and fun.  She gradually steps her students up through the gears, whilst maintaining a keen awareness of individuals' needs, limitations and capabilities.  In a relatively short space of time I have improved my core strength, and developed balance, control and flexibility.  Pilates is a challenge but you do get out whatever you are willing to put in, and newcomers will quickly experience and soon see the benefits.

Director, LAL Language Centres

Julie Ellen

In March 2019 I could hardly move due to a prolapsed disc and spinal infection.

I knew Arlette as a fellow tango dancer and also knew that she was a Pilates instructor so I asked if she could do Pilates sessions with me at my home to see if she could get me moving again, which she was only too happy to do.  She became my line of hope.  I was very down as I'm a very active person who had been in a great deal of pain for 2 months, I was unable to dance and we had already had to cancel several holidays.

From the very beginning her cheerful countenance and attention to detail meant I made good progress. I saw her every week for about 2 months, during which time she continually adjusted my exercises to build mobility and stability and I steadily grew stronger each week.  After two months, I was finally able to start driving again so I started visiting her studio to use the large Pilates equipment.  This was very helpful as it supports you and enables you to do things like jumping, but not on the ground!

I cannot recommend her highly enough and 10 months on, I am fully recovered and dancing again and I still do her exercises every day.

Argentine Tango Dancer

George Hook

Since doing Pilates with Arlette my attitude towards my body has changed drastically. As an administrator I found that I slouched when I sat at my desk. This would then lead to lower back issues.

Arlette has made me more mindful of how day to day activities, such as the way I sit at my desk, can impact on my back issues and body in general and she has taught me how to prepare my body for everyday activities such as cleaning and even cleaning my teeth.

The exercises I do in the studio have noticeably improved my flexibility and strengthened my core and I feel great. My back issues are now few and far between and because my posture is better I even feel taller.

Office Administrator

Audrey Harrison

As a Pilates teacher of over 20 years experience I can highly recommend Arlette's classes. She gives a very informative session making sure that everyone is comfortable with the exercise, adjusting individuals where necessary but keeping the class flowing.

She is very approachable making everyone feel welcome whilst remembering any physical problems that they may have and giving them sound advice regarding appropriate exercises for their condition. Her classes are fun whilst being challenging in a safe way, an excellent example of a Pilates teacher.

Pure Pilates

Lucy Parsons

From the time Arlette has been teaching Pilates at our offices our staff have instantly seen the positive effects of their weekly sessions. They often remark on how their flexibility has improved and how their tight backs, caused by poor posture have been ironed out.

Arlette is a complete professional, tailoring classes to suit the needs of those attending whilst taking into consideration any injuries, and adapting stretches as necessary. Everyone always looks forward to the classes and they are nearly always fully booked.

Marketing Executive
pilates Q&A
Does it matter how fit I am before I start?
No, it doesn't matter if you're starting from scratch, have a little experience or a lot. The machines are adjustable and therefore, highly versatile so that your sessions will be tailored to your individual needs, whatever your current level of fitness and/or injury.
What if I have an injury?
Don't worry, we will be asking you all about any injuries, operations or conditions during your consultation to ensure your programme sessions are designed with you in mind.
Tell me more about the Pilates studio apparatus and how they work?
Originally designed by Joseph Pilates to facilitate recovery among war veterans in hospital, the machines were later developed for use by dancers and athletes to enhance performance. Nowadays, they are still widely used in the sporting and dance world but are also extremely popular for improving general fitness and regaining fitness following injury, illness, surgery or for anybody living with painful conditions.
In Pilates fitness circuits you will get to experience each piece of equipment including the reformer, ladder barrel, Pilates chair, bench and tower. Occasionally it may be necessary to incorporate the smaller Pilates equipment such as resistance bands, balls and foam rollers.
The reformer uses a system of adjustable spring resistances with footstraps or handles to challenge muscles or support joints. The body is also supported to reduce load bearing, depending on individual needs and goals and which muscles are being targeted. It is an extremely effective piece of equipment which is why it is most of our clients' favourite piece of equipment.
The Pilates chair is also uses spring resistances and pedals. Clients are able to sit, lie or stand and although the chair is great for strengthening the torso, abs and obliques, upper body and arms, it is particularly good for strengthening legs and glutes for climbing, balancing, walking and improving general function for sit to stand movements for rehab.
The ladder barrel is great for stretching quads, hamstrings and glutes and like all of the equipment, developing core strength and due to its shape, is great for spine mobility/flexibility and strength. The domed padded seat is also perfect for horse riders as clients are able to bring their saddle with them to use on the ladder barrel in order to observe and adjust their current movement patterns and, together with the practitioner, improve their posture, core strength and performance when riding.
From a sports conditioning perspective, the reformer is ideal for dancers, athletes as it strengthens core and increases flexibility, mobility and coordination and the jumpboard element is perfect for skiers wanting to get in shape for the season, whereas the Pilates chair, is great for racquet sports players, golfers, skiers, gymnasts and runners.
Studio circuits will strengthen joints, increase flexibility, develop core strength, correct posture, improve balance and tone the body using the same guiding principles of Pilates, while reformer jumpboards bring an excellent cardio element to your circuit workout.
How much are your online classes and how do I sign up?
Online classes are £6 per class and are payable in advance.  Email me at rockpilatesuk@gmail.com for details of how to access the online class.
Can I still come to your studio during the coronavirus outbreak?
Yes.  In line with current government advice, the Pilates equipment studio is open with appropriate Covid prevention measures in place.
Do you need pilates in your work place?